I had an entire post ready to go for tonight and here I am writing this instead.
The truth is, last week I was contemplating giving my notice at work and staying home with Scarlett. I love my new job and it's a wonderful company but Scarlett's sickness week after week has really taken a toll on all of us. I have a hidden sense of guilt that is slowly emerging to the surface. Working three days a week is great in the fact that I get to spend Thursday through Sunday with my little girl. But in the past 4 months, my entire income has gone to pay for Scarlett's childcare or medical bills. From a financial stand point, this hardly seems worth it. Even more importantly, Scarlett's constant sickness makes it even less worth it. A lot of times I feel selfish because the reason I keep going to work is because I enjoy it. I love being busy and that I feel a sense of importance and satisfaction. I know that if I were to take Scarlett out of childcare now, she wouldn't be sick as much. In fact before she went to school, she was rarely sick. Maybe we wouldn't have to consider tubes for her? People always remind me that once she
does
start Kindergarten, sickness will happen anyway. But by that time, she will have a better immune system and most likely, she won't have the constant ear infections that her every sickness (even colds) turns into.
These thoughts all plague me.
Today, after leaving work, I was even more confused than ever.
I was pulled aside and offered a full-time position in Business Development. They told me that they were going to hire outside but that they had confidence that I could take on this position as well as maintain my loan processing position……..
………………..
I was a bit taken back. This company is amazing. They are so understanding when I'm out for sometimes a week or more because Scarlett is sick. And now this! Offering me a position that usually requires a masters degree or years of experience. I'm flattered but still confused.
I feel torn.
A part of me is thinking:
How can I turn this down?
This is an amazing opportunity that may never come again. This is a challenge and I am so excited to see what I can do and where this may bring me. I have been waiting for this kind of chance for quite some time. These thoughts bring me such happiness.
The mother in me is thinking
:
How can I give up the few days a week that I have left to spend with Scarlett? She is 2 years, 8 months and 3 days old. Soon she will be in kindergarten and that will be it. Her toddler years will be gone. I won't have that special time with her ever again. How can I take this on now when we aren't sure about Scarlett's health in terms of her ears and getting tubes. (We go this Thursday for our first consultation.) Then there is the fact that Scarlett has just started to go through some separation anxiety. For the last couple of weeks or so, she has been crying all the way to school begging to go to the store with me instead of going to school. Once we are there, she
cries
screams for me not to leave her. I have to pull her off of me and run out quickly, leaving her in the arms of a teacher. And all the moms tell me,
don't worry, it's a phase and she will get over it.
I understand this. I
know
this. But being that I have a history of anxiety myself, I know that terrible feeling all too well. It breaks my heart that I can't stay and comfort her, hold her and tell her that I will be there no matter what. Most days I cry all the way to work, praying that she knows how much I love her. Of course, she calms down within minutes and they send me a photo of her playing.
When I found out that I was going to become a mother, there were a million worries that went through my mind. Little did I know that the hardest decisions wouldn't come until years later. I'm sure that this will continue to happen throughout her childhood.
This is by far the hardest decision I've had to make.
They are only babies once and yet, opportunities like this don't come around often.
A couple of weeks ago when I was contemplating quitting my part-time job for the sake of my daughter, I didn't see this coming. Sometimes, and not always because often I am confused with how life works, I feel like things happen for a reason. Maybe this offer came along at just the right time? I haven't a clue what the right thing to do is. I feel completely overwhelmed. A lot of times when I feel this confused, I just drop it all and let God figure it out for me. Well God, I've got until tomorrow morning to make my decision……
don't fail me now!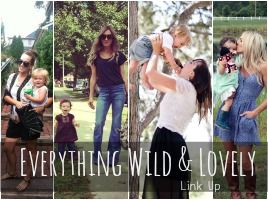 & link up your posts below to meet some new friends. Please help us share by linking back.