I guess Fall is here. The leaves are falling, we've begun pulling out scarves and boots and windows are open all day long. This part of Fall is my favorite. The time when the air is still warm but the trees are turning orange and red. Today, I dropped Scarlett off at school, (tears on the way home again) and then decided to keep myself busy and not think about things so much. I picked up some apples and brought them home to make apple crisp. I cleaned the house and opened the windows to let in the wonderful crisp Autumn air. I did my 6 loads of laundry, prepped a dinner recipe that I got from my sister and then counted the minutes until I could pick Scarlett up.
As I drove to pick her up, I started thinking. I do that too much. These last two weeks of Scarlett being in school, I've been tormented. I drop her off and then cry the whole way home. I have yet to start working. Why did I start her in daycare already? Around here, when you get into a good daycare/preschool, you take your spot while you can. Waiting lists are long. I'm still doing the interview thing and it's taking a lot of convincing from myself to get through these days.
"Yes, you are doing this for the best and yes things will get easier."
We all go through seasons. With each new season, you miss things about the one passing. I miss warm Summer nights and beach days. A lot of times we aren't ready for a new season. But you have to remember to look forward to all the good things to come. There are so many things I love about Fall and Winter, too.
Here in my home, we are going through a new season, too. And when I think about things like this, it eases the pain a bit. Of course it's hard to get used to not having Scarlett by my side every moment. But when I pick her up, her face lighting up as she runs to me.....I live for those moments. I know that there are still good things to come. I'm trying to let go of my Summer and open my heart to welcome the Fall.
We would love if you would join us
every Wednesday
in sharing
anything you like.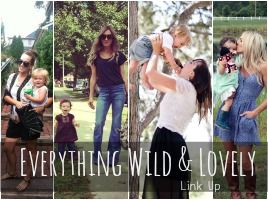 & link up your posts below to meet some new friends. Help us share by linking back.
Link Ups: