Hello lovelies, today is a special day because
today
, is the premiere of a brand new link up! My dear friend Alycia, from WildFlower, and I decided we wanted to share our Mama & Little fashion, all the lovely things in our lives, or even just what has been on our hearts lately.
We are two Mamas who believe fashion is still possible after motherhood, that our babes are a blessing & that life is wild & beautiful.
We share our wild and lovely with you each week.
We would love if you would join us every Wednesday in sharing anything you like.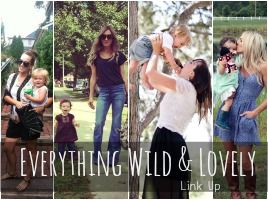 There are no rules except to follow
Alycia
and
Lauren,
& link up below to meet some new friends. Help us share by linking back if you can.
My top: Vintage, Boots: Target ~ Scarlett's dress:
Miss Scarlett's Boutique